DRESS
BOOTS: 1/4 inch heel – no flat soles!
HELMET: We supply one for the first month
Dress for the weather!
Winter – Wear Layers!

long johns
scarf /turtle neck
a warm vest
 head band or toque
hot shots!
Correct dress
= comfort & safety
= great start to learning!
Remember!
After your intro lessons, arrive at the barn 1/2 hour before class to prep and stay 1/2 hour after to finish up.
Work together! 
leave the barn and tack as you want to find it.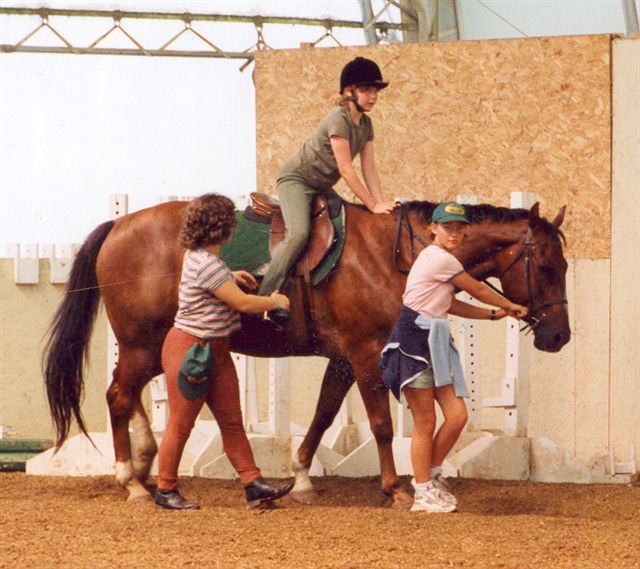 * Please note: We start our riders @ age 6 + for safety
Riding Lessons at Caledon Equestrian
Weekly lessons are geared to the safe progressive development of the rider. Coaches use the national Rider Level Program which establishes safe, correct and consistent skills at all levels. We offer Rider Testing at the end of the Spring session.
Lessons are available in groups, with a maximum of six riders per class with extra coaches and helpers for beginners; semi-private and private instruction. The cost stays the same for every type of class but the length will vary depending on the size of the class.
Caledon Equestrian School produces solid, effective and polished riders. We develop skills slowly but consistently. Our riders ride well but become horse people first. Sympathetic communication with our wonderful animals is paramount and that respect is instilled in the students in every riding lesson.
Mom's and Tots Program: On Hold for 2020 due to Covid

During the summer months we offer an intro lesson program for youngsters ages 4 to 6. We show the  children how to be safe around the ponies on the ground and build confidence  on the pony with a leader and a coach. The Mom or parent, is on site to reinforce instruction for safety. Lessons are offered after 3pm weekdays and regular lesson fees will apply.
Due to Public Health Protocols, masks must be worn inside the barn or when around a coach.
CES Covid Protocols
  Please:
* Do NOT come if you are ill in any way, or have been in contact with anyone with Covid
* If you have been travelling out of the country, let us know and we will see you after your quarantine
* No guests allowed on site or out of the car. One Family member per rider is allowed out of the car, but NOT in the barn.
* Masks must be worn in the barn and social distance must be maintained at all times
 *Please  supply your own: grooming equipment, lead shank and tack cleaning equipment. If you need a list or help getting your supplies, let us know
* every rider must have their own helmet.
* Disinfect/ wash your hands before entering and when leaving the barn and when opening and after closing the gate
* If your horse is already being ridden, please wait outside or in your car until the lesson time. If your horse is taken for another class, please head out right away.
* Barn staff will bring the tack to your stall, put it away and sweep up for you
 * Riders will stay in a stall only to tack and untack their horses.

* Lessons that are half barn and half arena, will be doing only the riding portion of the lesson for 45 minutes.
* Keep your distance in the barn – if a rider is leading a horse in the hallway, go into a stall
Be aware; Be safe; Keep your space and Disinfect!
Fees:
*HST not included*
SINGLE MONTH FEE: $225 +HST
SESSION FEE OF 4 CONSECUTIVE MONTHS: (Post dated cheques, e-transfer or pre-paid only)
$200 + HST
* Pro rated fees apply if you are starting the session late
Spring session – March, April, May and June
Fall session – September, October, November and December
Summer session – (July and August)
(can be paid as individual months)
Winter session – January and February
(can be paid as individual months)
Lesson Structure:
Group (3-6 students):  45 – 50min.  lesson
Semi-group( 2-3 students): 40 minute lesson
Private: 1/2 hour lesson
* One make-up per session is applied to the month with a 5th week
Other Costs:
Second family member or second lesson – $190
Extra lessons after the first four – $55 each
Single lesson: $60
Practice Rides (Rider 3 and higher): $50/hr.
                         Please add HST
A horse show is held at the end of each session – a minimum $50 show fee will apply.
We also offer National Rider Level testing.